LEVEL UP - The Gaming & eSports Festival filled the Messezentrum Salzburg on July 1 and 2. Visitors of all ages came together to celebrate video games, virtual worlds and real friendships.
Gaming and eSports have arrived at the center of the mainstream. Video games, gaming streamers and YouTubers are competing with traditional broadcasting stations. Instead of movie nights, people meet online to play games together. The success of the second edition of LEVEL UP shows that the scene is not only well connected virtually, but also likes to get together in real life. Last weekend, the video game festival attracted around 6,500 visitors to the Messezentrum Salzburg and left them in awe.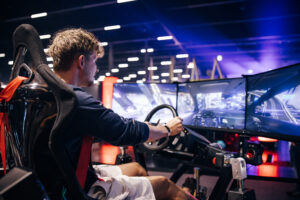 The program of this year's LEVEL UP was dominated by diversity. On more than 15,000 square meters, all those who like to use the computer for a game instead of for work got their money's worth. Whether eSports fans, hobby gamers, technology enthusiasts or virtual reality fans - there was something for everyone in the exhibition hall. But fans of collectible card games, tabletop and cosplayers also had reason to celebrate, because LEVEL UP 2022 also brought these communities on board.
The games festival was decidedly family-friendly. Numerous parents, and occasionally grandparents, strolled through the hall with children and learned firsthand what excites today's youth. Game content that is classified as not child-friendly could be celebrated in a cordoned-off zone to which only people over the age of 16 had access.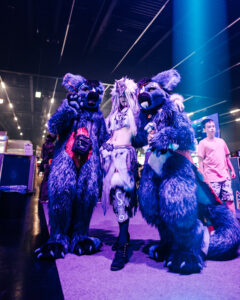 One LEVEL UP - countless experiences
The visitors made their own individual way through the exhibition center, with waiting times at the booths, as known from other gaming events, being kept to a minimum. Among other things, this was ensured by the "LEVEL UP Challenge" concept introduced in 2021. This is a series of quests (tasks in the video game world) that had to be found and mastered with the help of the hall plan in order to win attractive prizes. So you saw kids packing gaming backpacks in record time and groups of role-playing game fans loudly chanting battle cries. For the techies, there were NFTs from the LEVEL UP 2022 Premier Series, a limited edition in cooperation with AdaQuest.
Partners of various kinds were brought on board for the respective program points. Once again, industry giants such as A1 and Red Bull were involved, but also regional companies and organizations such as Salzburg AG, FH Salzburg or the local eSports team from Morekats Gaming. New participants included eurofunk, IKEA Austria, Mastercard and the Austrian Armed Forces, which provided information
on cyber security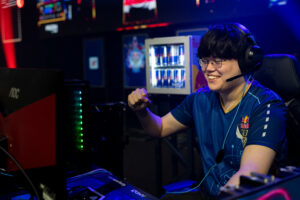 eSports at its highest level
The ultimate eSports experience was offered at Red Bull Solo Q, the official 1v1 League of Legends tournament in cooperation with Riot Games. In a gripping final duel, Louis Vaessen aka "GhettoHongky" was able to prove his skills against Konstantin Kain aka "Anonymouss" and secure the title as Austria's best LoL player. But that's not all: In the European final of the global Red Bull Solo Q tournament "GhettoHongky" has the chance to enter the world final in New York. Louis Vaessen from Linz was thrilled: "What an exciting competition. Through the games on the stage, the livestream and the casters, you experience a unique eSports event here even as an amateur."
Other highlights on stage included the eurofunk Smash Cup, a cosplay show and a Counter Strike tournament format with 6,500€ prize money, organized by the local organization alpenScene.
The Rocket League tournament was won by the Viennese eSports team Austrian Force in a complete surprise. Amid thunderous applause and the whipping voices of the two moderators, they prevailed over the top-class competition from Germany in what can briefly be described as "auto-football".
The stage action was rounded off by, among other things, the Yu-Gi-Oh! LEVEL UP Open and the after parties. DJ Busy Fingaz and the Brass Band of the Jägermeister: Hirschrevier got the crowd dancing.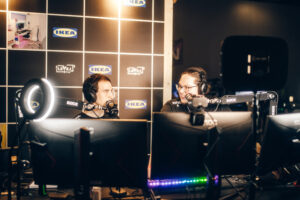 More than just games
What is usually apparent online in chats and livestreams became clear offline at LEVEL UP: contrary to widespread prejudices, gamers are anything but individualists, but prefer to be among like-minded people.
Regional and international companies have taken the fair as an opportunity to get in touch with a young, tech-savvy target group. "Our intention is to find apprentices here who are not only gamers but may also be future programmers for our equipment," says Heimo Spindler of W&H Dentalwerk Bürmoos.
For a charitable cause, the fair installed a livestream of the program together with Letsplay4Charity, which was implemented on the streaming platform Twitch. The stream was watched by over 400,000 viewers. Over 10,000 euros in donations were collected. These will benefit the charitable projects Hilfe im Kampf gegen Krebs e.V., the Wings for Life Foundation and Gamers Health.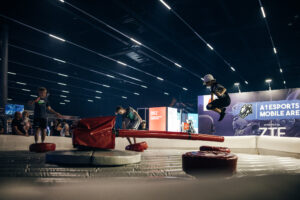 What can we expect in the future?
The voices of the visitors and exhibitors underline the relevance of the event in the gaming community. There is a consensus that LEVEL UP has taken a fixed place in the Austrian event calendar and will continue to do so next year.
"After we adapted the concept again this year compared to last year and the new ideas were very well received, we are planning with the same format for 2023," says Hansjörg Wechselberger, press spokesman for Messezentrum Salzburg. "Our goal, however, is to turn a few screws and further improve ourselves in terms of content and organization in order to offer visitors an even better experience."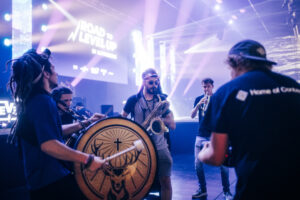 About LEVEL UP:
LEVEL UP is the first Austrian gaming and eSports festival that brings together gamers, gaming fans, as well as creators and stars of the scene in an experience-oriented atmosphere to experience new trends and celebrate the common passion.