LEVEL UP is approaching with giant steps. In just one month, the gaming festival will open its doors to gamers and interested visitors for the third time. What can be discovered this year at Austria's largest gaming and eSports festival and what new highlights await the visitors can be found here.
On July 1 and 2, 2023, the LEVEL UP gaming festival will take place for the third time at the Messezentrum Salzburg. The organizers are expecting 10,000 visitors, who will be treated to a two-day program that has something to offer for all age groups. Whether you want to play games yourself or experience the innovations from the gaming industry with friends - LEVEL UP makes it possible. And it all starts in exactly one month.
The family friendly gaming festival
Gaming festivals are only for hardcore gamers? Wrong. LEVEL UP offers a diverse program that is also suitable for hobby gamers, families and even fans of board games.
In the LEVEL UP Challenge , which is already known from previous years, the visitors solve tasks - the so-called quests - and can win great prizes while they playfully explore the entire exhibition area.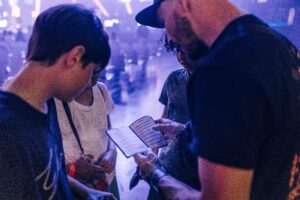 Multiple family friendly games ensure that no one is left out. In the BRZ Tetris Area, you can put your skills to the test in Tetris Effect, the successor to the world classic. At the Salzburg AG booth, visitors can try out the most powerful gaming computer on four wheels, a converted Tesla. In addition, there are exciting races through space at Icaros, or diving into other worlds with LosKrochn. At both exhibitors, you can experience this and much more with the help of VR glasses.
A good dose of nostalgia will be provided by the ever-popular Retro Area, which will offer visitors world hits from the early days of computer games . If you want to relax your eyes in between, you will find traditional board, card or tabletop games in the Gamers Finest Tabletop Area and CardArena again this year.
Letsplay4Charity is once again streaming live from the Gaming Festival and donating the proceeds from the stream to charitable causes. Last year, more than 10,000 euros were raised on Twitch and on site, which were donated to the Wings for Life Foundation, Gamers Health and Hilfe im Kampf gegen Krebs e. V.
To support families also in terms of price, children under 16 pay a reduced price and admission for the youngest under 12, accompanied by an adult, is free.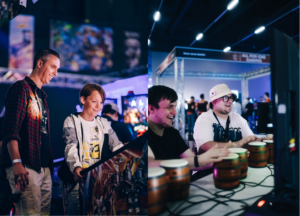 What's new at LEVEL UP?
The E-Sport School League, short ESSL, organizes the student national championship in Valorant and brings the final matches to the mainstage at LEVEL UP. The introduction of this school league is another step towards professionalization in the scene, because interested students can enter the competitive circles at a young age.
This year, LEVEL UP will host one of three qualifiers for Red Bull For The Win, a new eSports format. Newcomers to the games Rocket League, Counter Strike: Global Offensive and League of Legends can qualify to compete against professionals in a grand final after extensive coaching sessions.
Virtual Dojo Vienna brings the brand new title Street Fighter 6 to LEVEL UP in a showmatch. The game is one month on the market at the time of the festival and will be presented by absolute pros to show how good beat 'em up gameplay can look like. If you want to play yourself, you can try out your Dragon Punch or Sonic Boom at the Virtual Dojo Vienna booth.
Exhibitors from the industry
Numerous exhibitors not only present games, but are also looking for employees for their own companies. W&H Dentalwerk and the Bundesrechenzentrum (BRZ), for example, are using LEVEL UP as a platform to talk to young people with an affinity for technology. LEVEL UP is the ideal opportunity to get to know potential employers and their activities.
Especially for those looking for jobs in software development and electronics, LEVEL UP is a unique opportunity to combine a hobby and a possible professional future.
 Don't have a ticket yet? Get it now at the LEVEL UP Ticketshop.
About LEVEL UP: 
LEVEL UP is the first Austrian gaming and eSports festival that brings together gamers, gaming fans, as well as creators and stars of the scene in an experience-oriented atmosphere to experience new trends and celebrate the common passion.