LEVEL UP - The Gaming Festival reveals first details of the program and line-up of its third edition. Who is returning? Which new highlights will be there? Here you can read up on all the available infos.
In 2023 LEVEL UP is happening on July 1 and 2 in the Salzburger Messezentrum. After two successful years, with 2.500 and 6.500 guests, the event is now aiming for 10.000. 350 early-bird-tickets are already sold out. Regular tickets are available and the first announced parts of the program spark curiosity.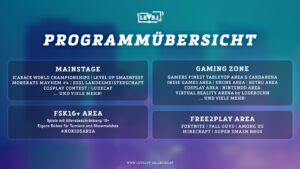 Returning highlights from the last years
Some exceptionally hyped parts of the program are returning in 2023. In the LEVEL UP ICARACE World Championships, a competition where the participants fly through virtual worlds on a VR-fitness device, the yet unbeaten world champion, Thomas Ebner from Austria, will try to defend his title for the sixth time. At the Morekats Mayhem #4, a Rocket League tournament, a kind of virtual car soccer is played. On the main stage, the best teams of 3 show their skills. Letsplay4Charity will be live-streaming again, to collect money for charitable endeavours. Last year, they collected over 10.000 Euro.
Also, the FSK16+ AREA is making a comeback. In this separated Area, you will find players, orgas and teams of games that are not suitable for all age groups. Here you will see a CS:GO tournament, hosted by alpenScene, and other tournaments where the best teams can be cheered on.
Last year, many guests experienced the cosplayers as a special highlight. Therefore, they will bring their magic to their own area inside the gaming zone. Cosplay is about portraying figures and characters, e.g. from movies or video games, in a particularly true-to-the-original way. On a special occasion, they will take over the mainstage. Talking about taking over: Super Smash Bros. Ultimate, an action game where you try to catapult your opponent out of the game arena, is also back. This time with the LEVEL UP SMASHFEST, an open tournament for 128 players. The Registration for the Smashfest is already open.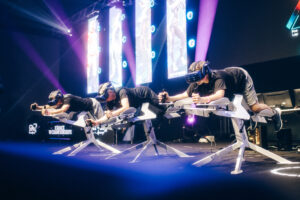 In one of last years favourites, the gaming zone, visitors will once again discover the Retro Area, where you can play the best games of the last decades on old consoles like Atari or Sega besides pinball machines. In the Indie Games Area you can take a look at games from independent developers, and there is also a Free2Play Area, where visitors can play a plethora of titles either solo or with friends.
Fans of Warhammer, Magic and more will have the time of their lifes in the Gamers Finest Tabletop Area and CardArena , while speed junkies will be excited about the Drone Area , which will host a drone race to find out who is the best pilot in the country.
This alone would be enough reasons to be hyped about LEVEL UP and grab a ticket. But we are just getting started.
What's new at LEVEL UP 2023?
The ESSL National Championship in Valorant brings its final matches to LEVEL UP. ESSL stands for E-Sport School League. The whole thing is organised by students of the HTL Salzburg. Amateurs and Pros can join. There will be two different assessments. The competition is open for Austrian high school students from this or the last school year. Among other things, parts of the Valorant ESSL National Championship and the Counter- Strike:Global Offensive tournament will be held on the newly integrated stage in the FSK16+ area. Both are computer games from the genre of online tactical shooters.
Street Fighter 6 has its Debut on the LEVEL UP Mainstage. The new beat-em-up will be seen in a show match on the mainstage. The Austrian streamer Veyla will stream directly from the LEVEL UP Mainstage and share what's happening with her over 93.000 Twitch followers. With Nintendo we have on of the big players of gaming, as an exhibitor, on-site.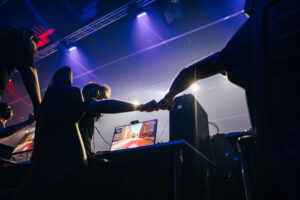 Gaming-near start-ups and teams will present their work in a designated area in the Gaming Zone. There you can get your updates on anything gaming first-hand.
Food and drinks are a treat as well. Many foodtrucks and bars will serve provisions for any preferences.
With these already known details LEVEL UP 2023 promises to be a highlight of gaming events in the DACH area. Mark the weekend in your calendar, call your crew and book your hotel. We'll see you there.
Regular updates about the program will by available at: https://www.levelup-salzburg.at.
About LEVEL UP: 
LEVEL UP is the first Austrian gaming and eSports festival that brings together gamers, gaming fans, as well as creators and stars of the scene in an experience-oriented atmosphere to experience new trends and celebrate the common passion.