In just one week, Salzburg's gaming and eSports festival LEVEL UP opens its doors for the third time to celebrate gaming and bring gamers, fans and families together for two days in a casual atmosphere. Tickets are available at levelup-salzburg.at or directly at the event.
After a successful debut in 2021 and a literal level up last year, LEVEL UP promises incredible diversity and the opportunity to enjoy gaming and eSports with new and old friends again this year. With 15,000 square meters of space, pro-gamers, gaming connoisseurs, casual gamers, cosplayers, tabletop and card game enthusiasts, as well as those who just want to get a taste of what it's all about, are guaranteed to get their money's worth.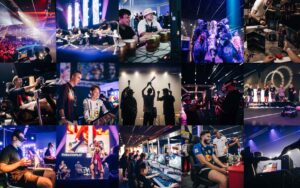 What can visitors expect at LEVEL UP?
This year LEVEL UP presents a balanced mix of old and new elements. At the Icarace World Championships, the world's best VR pilots will do the honors and crown a new champion. At Morekats Mayhem #4, we will see the finals of a Rocket League tournament in which rocket-powered cars perform breathtaking stunts to sink an oversized ball into the goal.
The Retro Area offers original pinball and video game machines from the heyday of arcade video games. At LosKrochn and the Icaros booth, virtual reality enthusiasts can immerse themselves in digital courses and the Metaverse.
In the Free2Play Area by Emmi Caffé Latte, visitors can play Free 2 Play games on 20 computers, for example the Battle Royal classic Fortnite or Among Us, the popular video game version of the party game Mafia. At 30 Switch stations, visitors can put their skills to the test in Super Smash Bros Ultimate.
The Indie Games Area in the Gaming Zone will have its own stage, where there will be numerous talks, discussions and presentations of indie games. Indie Games is the term for games that are produced outside of the big game studios by small development teams or individuals. The Indie Stage will be hosted by the FH Salzburg and sponsored by Bonusworld.
The mainstage program will be completed this year by the Austrian streamer Veyla and a Street Fighter 6 showmatch by Virtual Dojo Vienna.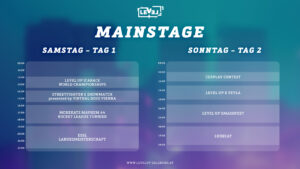 A noticeable power up this year will be given to cosplayers, who were already among the crowd favorites last year. In various workshops, visitors can dive deeper into topics related to bringing characters from fictional worlds to life.
Numerous food trucks and bars provide culinary delights for almost all tastes and dietary preferences. Planted offers plant-based meats made from all-natural ingredients, and the Bubble Bar is your go-to spot for bubble tea. Meat tigers can get their classics, like hot dogs, schnitzel sandwiches, liver cheese sandwiches or fries at Metzgers Foodtruck.
LEVEL UP NFTs are also making a comeback. The LEVEL UP NFTs from 2022 give their owners a free drink or meal, depending on their rarity. The new series NFTs are limited to 100 pieces and will only be given out to visitors who can solve at least 14 of the LEVEL UP Challenge tasks. The LEVEL UP Challenge is a real-life challenge in which visitors must solve mini-tasks, called quests, throughout the LEVEL UP area. Participants can expect not only fun for the whole family, but also the chance to win great main prizes.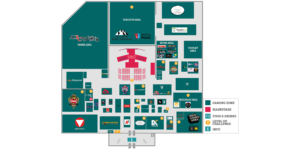 Ticket are available now
Ticket are available at levelup-salzburg.at and at the event.
The 2-day passes cost 27 euros for adults and 21 euros for rookies under 16, and the 1-day tickets cost 18 euros and 12 euros. Children under 12 can visit the festival, accompanied by an adult, for free.
About LEVEL UP: 
LEVEL UP is the first Austrian gaming and eSports festival that brings together gamers, gaming fans, as well as creators and stars of the scene in an experience-oriented atmosphere to experience new trends and celebrate the common passion.