The alpenScene CS:GO tournament announces a historic prize pool of € 6,500, which will be played out at the LEVEL UP Mainstage on July 1-2, 2022.
alpenScene reports back with "Road to LEVEL UP". After the successful Staatscup series, for the first time a purely Austrian competition will be abandoned and the gates will be opened for international teams. The "Road to LEVEL UP" will be the most spectacular tournament format in the history of the club so far.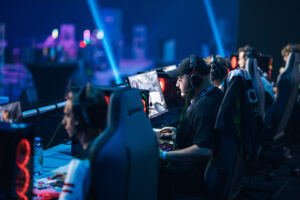 In three qualifiers, the teams have the opportunity to qualify for the semi-finals at LEVEL UP's LAN party. The two online qualifications, which are held via the market leader FACEIT, ensure that no room is left for cheating and other fraud. Furthermore, both qualifications are completely under the motto: "Losing forbidden". In a Single-Elimination-Bracket the teams have to play to their maximum in every match to avoid having to pack their bags early. The first qualification will take place on June 4 and all teams from the European region get the opportunity to prove their skills. On 18 June then follows the qualification for Austrian teams..
The links to the qualifiers:
EU Qualifier June 4-5
Austria Qualifier: June 18-19
3rd qualifier: Directly on the LEVEL UP LAN
The winners of the respective tournament qualify directly for the semi-finals. The runners-up will get LAN tickets for LEVEL UP. At the LAN itself, two more semi-finalists will be searched for. A total of over 6,500 euros in prize money is being fought for. The final will be held on the LEVEL UP stage in front of spectators to determine the winner of the Road to LEVEL UP.
All tournaments will be broadcast on the Twitch channel https://twitch.tv/alpenSceneTV.
To the registration here.
---
All details about the further program of LEVEL UP can be found here:
If you don't have a LEVEL UP LAN ticket yet, you should buy it quickly before the ONLY 200 seats are taken:
More details about the program, partners and guests will be announced on our social media channels on an ongoing basis: Instagram, Twitter, Discord, Facebook and YouTube.